---
September 24th, 2001
Issue #75
Hong Kong Digital is a recurring series of movie reviews by John Charles -- associate editor / film reviewer for Video Watchdog magazine and the author of The Hong Kong Filmography.

The Cheaters
(2001; Century Creator Co. / Buddy Film Creative Workshop / M Productions)
Cover art courtesy Universe.


RATING

10
A Masterpiece

9
Excellent
8
Highly Recommended
7
Very Good
6
Recommended
5
Marginal Recommendation
4
Not Recommended
3
Poor
2
Definitely Not Recommended
1
Dreadful




| | |
| --- | --- |
| Cantonese: | Jing jeung |
| Mandarin: | Zheng jiang |
| English: | Honest Warriors |
Another short and slick B-thriller from Simon Lui Yu-yeung and director Billy Chung Siu-hung's Buddy Film Creative Workshop, THE CHEATERS features the usual strengths and weaknesses one has come to expect but shies away from the violence that usually permeates the duo's pictures.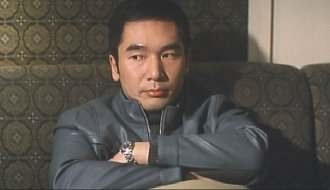 Alex Fong Chung-Shun. Image courtesy Universe.
Tin-bo (Jordan Chan Siu-chun), Lok (Alex Fong Chung-sun), Chi-wai (Chapman To Man-Chak), Tong (Ken Wong Hap-hei), and Elsa (Hera Lam Pik-yan) are a team of swindlers living the high life. After taking a would-be high roller (Frankie Ng Chi-hung) for more than a half million, they prepare for a far more complicated and lucrative operation. Their target is Lun Yan (Simon Lui Yu-yeung), aka "The King of Ghosts," a notorious conman currently cooking up a trap of his own. Some of the team infiltrate Lun's company and get the inside information they need but Lun is wise to their plans.
From left to right: Hera Lam Pik-yan, Frankie Ng Chi-hung and Jordan Chan Siu-chun.
Image courtesy Universe.
He offers to let Tin-bo and company abscond with the comparatively small amount they planned to embezzle, on the condition that they immediately leave Hong Kong, allowing him to proceed with the much larger scam he plans to pull on his business partner. Unfortunately, Tin-bo has fallen for the beautiful Michelle Lui (Sonija Kwok Sin-lei), unaware that she is the daughter of Lun's target. Not surprisingly, things take a turn for the worse thereafter, prompting the team to propose a highly unorthodox alliance.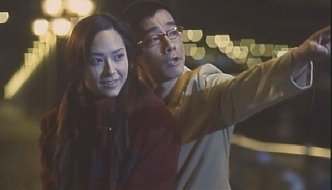 Sonija Kwok Sin-lei and Jordan Chan. Image courtesy Universe.
White collar crime capers are rare in Hong Kong cinema, so THE CHEATERS enjoys definite novelty value and operates well within its budgetary limitations (notably, a sequence filmed during actual New Year's Eve festivities in the SAR, one of the more inspired examples of "shot stealing" in recent memory). There are some narrative lapses (a bit of early narration by Jordan Chan's character states that these professionals regularly change their identities and yet they use the same names for the Lun Yan caper as they did on their previous job), however, and the relationship between Tin-bo and Michelle is woefully underdeveloped. The screenplay does extend some interesting twists in the second half but the final revelations are less impressive, diminishing one's overall impression.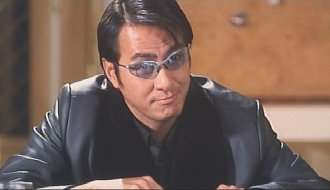 Ken Wong Hap-Hei. Image courtesy Universe.
DVD Specs:

Universe #5581
Dolby Digital 5.1
Sync Sound Cantonese and Dubbed Mandarin Language Tracks
Optional Subtitles In English and Chinese (Traditional or Simplified)
8 Chapters Illustrated In the Menu With Clips
Letterboxed (1.80:1)
Coded for ALL Regions
80 Minutes
Contains mild violence, some gore, and mild sexuality

DVD menu courtesy Universe.

Film Board Ratings and Consumer Advice

Hong Kong: IIB
Singapore: PG [Passed With Cuts]

Presentation

The image alternates between sharp and saturated and dull and hazy. Some of this is conceptual but the transfer could probably be a bit crisper. The stereo mix has fairly modest separations (mostly only on the foley track) but is competently handled. As with a number of HK releases this year, the English subtitle translation is worse than usual, making some conversations difficult to follow. A trailer and Star Files for Jordan Chan, Alex Fong, and Simon Lui are the only extras.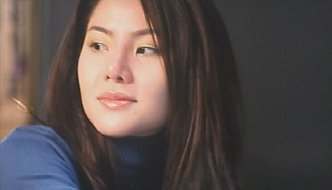 Hera Lam. Image courtesy Universe.

THE CHEATERS is available at Poker Industries.
---
Click here for more information about The Hong Kong Filmography
Copyright © John Charles 2000, 2001. All Rights Reserved.
E-mail: mail@dighkmovies.com

Hong Kong Digital is presented in association with Hong Kong Entertainment News In Review